Cookie preferences
This website uses cookies, which are necessary for the technical operation of the website and are always set. Other cookies, which increase the comfort when using this website, are used for direct advertising or to facilitate interaction with other websites and social networks, are only set with your consent.
These cookies are necessary for the basic functions of the shop.
"Allow all cookies" cookie
"Decline all cookies" cookie
Customer-specific caching
These cookies are used to make the shopping experience even more appealing, for example for the recognition of the visitor.
Dark bee queen station mated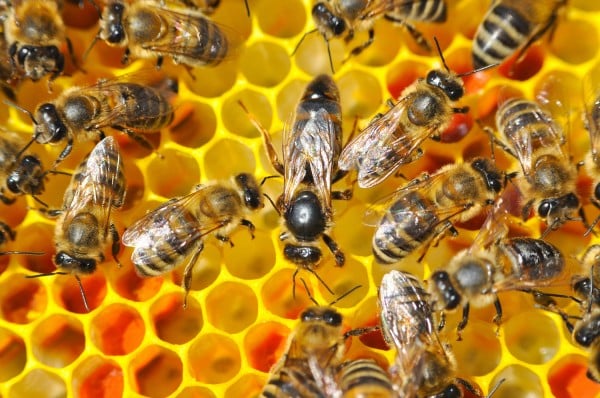 Live delivery guaranteed
We guarantee live and safe delivery to your door.
Only high quality bees
Long-standing partner and specialist in the German-speaking area for the purchase or sale of high-quality bees.
Beekeeping from professionals
We contribute significantly to the propagation of bees in the German-speaking countries.
Buy Dark bee queen station mated - a Scandinavian lady with character: Our station mated...
more
Buy Dark bee queen station mated - a Scandinavian lady with character:
Our station mated dark bee from Norway is particularly lively and hardy. In beekeeping it is important to work with purebred bees, so that the next generation is also purebred. Our dark bee queen - also called northern bee or Apis mellifera mellifera - was mated in one of the last remaining pure-breeding areas in Norway or Sweden, so the mating was definitely done with dark bee drones and thus you will find the pure-bred variant here.
Apis mellifera mellifera - How is the gentleness and honey yield?
The Scandinavian Apis mellifera mellifera has proved very successful, especially in yield in average to bad weather, and in this area is much better and more agile than the conventional Buckfast bee. This means that it builds up the frames properly in bad to moderate weather and brings in more honey than the already resident breeds and thus scores with a good honey yield. Our dark queen bee has been tested by us and in our opinion it is also somewhat more lively than the dark queen from Finland, but at the same time more resistant as a result. We call for caution on this subject: in our opinion, a true northern bee will never reach the meekness of a bred Carnica or Buckfast, because then it would probably make losses in other traits. We can state this with certainty from our own experience as well as by questioning several pure-breeding beekeepers (Apis mellifera). The fairytale often found on the Internet and in beekeeping forums, of the completely docile purebred dark bee and beekeeping in trunks, is therefore somewhat smiled at by professional beekeepers and breeders who know best.
However, with a good harvest and normal temperatures, it can be said that the Scandinavian queens and worker bees, as well as their offspring, are quite peaceful and cause less trouble. In thundery weather, however, we do not recommend opening or working the dark bee colonies.
Northern bee - The original bee breed in Germany and Central Europe
Whoever chooses our dark bee for beekeeping, chooses the originally widespread breed of bee in Germany and in large parts of Europe. The advantage of resistance is not only very useful in cold winters and low temperatures for successful overwintering of your dark bee colonies - the dark bee, which originally comes from Germany, is also said to cope much better with the Varroa mite and fights it strongly on its own. Each queen is marked with a numbered plate. A health check is the standard procedure before each delivery to the beekeeper. A health certificate is thus provided. The dark queen is delivered with some worker bees and enough food in the feeder cage . We rely on gentle shipping by express courier, so your "Dark Bee" queen will usually be with you in less than 24 hours. The exact shipping day will be announced to you by e-mail.
Dark bees from the pure breeding area - Only the purest northern bee for your colony
The interesting thing about this dark bee is that it was originally introduced from Germany, from the area of Lüneburg Heide in the 18th century. In Germany the bee was the only native honey bee since the past ice age. Therefore, we can rightly say that this is an original German bee breed that came to Scandinavia. In the German speaking countries the line names for the Dark Bee were also known as "Flekkefjord" and "Norges Birøkterlag", which simply represent villages in Norway, which are located in the respective pure breeding areas. Since in the pure breeding areas "Flekkefjord" and "Norges Birøkterlag" exclusively bees of the dark race Apis mellifera mellifera may be kept, this race with its specific character preserves itself there automatically. Of course, the harsh climate of Norway and Sweden also helps, which makes it difficult for other bee breeds to survive the winter there and to develop a stately size in the short summer period or to defy wind and weather. This has also been shown by past wing tests of dark bees from various Norwegian and Swedish breeders, which came to the conclusion that the Scandinavian dark bee is a pure dark bee or a dark bee without any hybridization.
Where are the largest and purest populations of the dark bee located?
Exact figures on the size of individual bee populations of apis mellifera are not known. However, we can make a statement about the size of the pure breeding areas: In Norway, the areas where only the northern bee is found have an approximate size comparable to Bavaria and Baden-Württemberg combined. Other populations of the Dark Bee are also found in rural areas of Ireland, Sweden and Finland. We clearly recommend the Norwegian and Swedish Dark Bees and therefore only offer these. With our Dark Queen you get a long-live and very healthy apis mellifera, which is purebred. Your "Bienenzucht Profi" online store has been focused on providing you with healthy and high qualitycolonies and queens for years. The Dark Bee from Scandinavia is therefore the icing on the cake in our online bee shipping for you. If you are already beekeeping with the dark bee, we offer you an easy, uncomplicated and inexpensive way to replace your old queen with a new strong, healthy and brood-rich dark bee queen!
Is the Apis mellifera mellifera only suitable for "beekeeper professionals"?
Our dark queen carries the classic character traits of the dark bee and is therefore best suited for laymen, beginners and professional beekeepers who would like to test the dark bee or would like to exclusively beekeep with the dark bee. You will receive our mated dark bee queen within 7-14 days during the season from June to August. In any case, we recommend an early pre-order, especially for the dark bee, so that we can better plan and ensure the availability and professional and timely shipment. We ask you to select the desired delivery period in the upper navigation and add the appropriate number of bees to your shopping cart.
Does our northern bee originate from varroa resistant bee breeding?
Breeding of the dark bee in Norway and Sweden is carried out professionally only by a limited number of breeding beekeepers. Each apiary or beekeeper focuses on different characteristics that are important to them in breeding. We cannot yet say that our Apis mellifera mellifera is completely Varroa resistant. However, we can state that there are already some colonies that are completely varroa resistant. Therefore, we believe and hope that in the coming years we will develop a line that is completely varroa resistant and does not require any treatment. This would be a new revolution in beekeeping that we are very excited about.
Conclusion of the dark bee for the reproduction in Germany
Whether you are simply curious and want to try the Northern Bee in your own apiary or are located in an area such as Northern Germany that has a more severe climate and the usual honey bees such as Carnica or Buckfast struggle with it, we can make a definite recommendation to test the Dark Bee. If you have been beekeeping for some time, then you will definitely develop strong colonies over time and bring in decent honey. We also recommend that you leave enough honey for the bees to overwinter, so that they will multiply again in the spring and produce honey again in the new season. Apart from the fact that the more pronounced varroa tolerance is also an important point, it will certainly be interesting for you as a beekeeper to see the comparison with the previous bee breeds. However, we would like to point out once again that the dark bee is not the first choice for beekeepers for whom only the gentleness of the bee is important. The subject has already been dealt with in the sections above. In brief we say that it is worthwhile to beekeep with our Apis mellifera mellifera, as long as you are sometimes willing to compromise on gentleness.
You have questions or need information about the use of the queen in your colony? Take a look at our bee glossary, where we bring you closer to other terms from the world of beekeeping.
| | |
| --- | --- |
| Begattungsart: | belegstellenbegattet |
| Rasse: | Dunkle Biene |
5 / 5
Sehr gut
aus insgesamt 5 Bewertungen
Read, write and discuss reviews...
more
Customer evaluation for "Dark bee queen station mated"
From:
Herbert
On:
28 Feb 2022
Super Qualität
Einfach nur zufrieden
From:
Sabine Bender
On:
21 Feb 2022
Mehr als zufrieden. 100% weiterzuempfehlen
Seit Jahren sind wir sehr zufrieden. Immer wieder gern.
From:
Ingo Dunkle Biene
On:
27 Sep 2019
Dunkle Königin Reinrassig - Spitze!
Ich wurde darauf aufmerksam gemacht, dass man bei Bienenzucht-Profi Dunkle Königin kaufen kann und habe dann dieses Jahr eine Dunkle Bienenkönigin bestellt. Die mellifera mellifera ist Spitze... Da ich schon seit Jahren Dunkle Bienen halte, kann ich die hier gebotene Qualität beurteilen. Toll, dass man die Dunklen Königinnen nun so unkompliziert online bestellen kann.
From:
Mira
On:
14 May 2019
Keine Beschwerde. schneller Versand.
Wir bestellen hier immer wieder gern. einwandfrei Verpackt, sehr zufrieden. THX
From:
Timo
On:
30 Dec 2018
Write an evaluation
Evaluations will be activated after verification.